Bridgestone Trailwing TW101 Tyres Available in DAGENHAM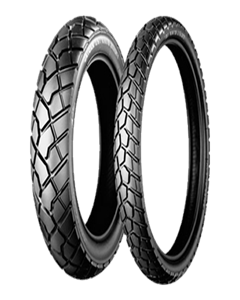 Trailwing TW101
TRAIL WING TW101 FEATURES
Discover the features of your Bridgestone tyres:
CUSTOM PERFORMANCE
The Trail Wing range stands for superior off-road performance tailored to the specific needs of your individual machine.
WIDE RANGE
Let us take you under our wing with a wide spectrum of patterns, sizes, speed indexes and OE specifications, from a selection of scooter dimensions to large trail bikes.
GROUND-BREAKING DESIGN
Break new ground with Bridgestone's trusted off-road technology, optimised for all possible surfaces and conditions.
SUPERIOR CONSTRUCTION
Covering both bias and radial construction, Trail Wing stands for quality, reliability and performance, whatever your needs.
ALL-ROUNDER
All-round performance, especially on-street, has led the TW101 to be chosen as OE on prestigious bike brands such as BMW and Honda.